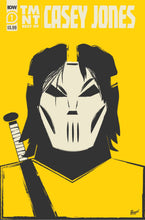 TMNT BEST OF CASEY JONES
Written by: VARIOUS,

Artist by:
Various,
Cover Artist by:
Biggie, James
Goongala! Is Casey Jones a disturbed vigilante or the Turtles' best pal? Why not both? Featuring stories from across multiple publishers, dig into this collection of the best stories of the TMNT's unpredictable ally!