CRESTAR & KNIGHT STALLION...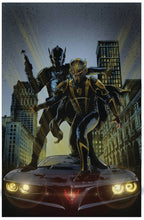 CRESTAR & KNIGHT STALLION #1 (OF 5) CVR A CHAREST (MR)
This Pre-Order has an estimated release date of July 19, 2023.
For an updated release schedule, please reference www.previewsworld.com.
Note: Release dates may change.
Cover art on Pre-Order is not final & is subject to change. Thank you.
Any items listed as Pre-Order and listed after FOC does not qualify as Back Issue, please reach out to confirm availability. Thank you.
Written by: Allor, Paul
Artist by: Gastonny, Garrie
Cover Artist by: Charest, Travis


In a Detroit teetering on the edge of destruction, Crestar, a battle worn vigilante discovers a young man with superhuman abilities. Coming to be known as the Knight Stallion, this new hero fears only one thing... his Arab mother.