ASTERIX OMNIBUS PAPERCUTZ ED...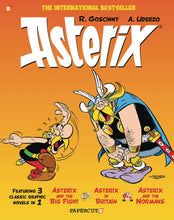 ASTERIX OMNIBUS PAPERCUTZ ED SC VOL 03 (C: 1-0-0)
This Pre-Order has an estimated release date of (Click on Preview World link for updated date).
For an updated release schedule, please reference www.previewsworld.com.
Note: Release dates may change.
Cover art on Pre-Order is not final & is subject to change. Thank you.
Any items listed as Pre-Order and listed after FOC does not qualify as Back Issue, please reach out to confirm availability. Thank you.
Written by:
Goscinny, Rene
Artist by:
Uderzo, Albert
Cover Artist by:
Uderzo, Albert